Bandpass Filter Selection Guide makes it easy to find the right optical filter for your application!
Need an optical bandpass filter for your next project but not sure where to start? Look no further than this Bandpass Filter Selection Guide from Andover Corporation.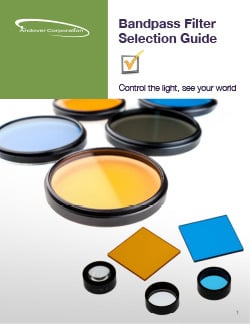 Beneficial for new users and industry veterans alike, this go-to resource includes:
Descriptions of standard filter types

Information on how to select a semi-custom filter

Technical specifications

Spectral profiles

Typical applications
Andover is a premier, global provider of standard and custom optical filters and coatings. For more than 45 years, we've been exceeding customer expectations for quality, availability and technical support.
We manufacture filters and coatings for a wide variety of applications, including medical instrumentation, fluorescence studies, machine vision, agricultural imaging, ground-based and space-borne astronomical observation, telecommunications, military and civilian surveillance systems, and defense targeting systems.
Let us help you find your perfect filter. Download the guide today!